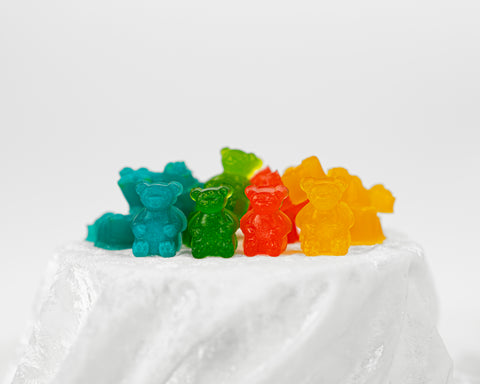 NOMYNOMY Pet Bakery
Gummy Bear
Box of gummy bears made with 24-hour cooked bone broth and a hint of turmeric, perfect aid for weak bones or teeth.
(Note: We can't engrave names on pastries)
Nutrition Facts
Calorie Content (ME) 340kcal
- of which: Crude Protein (min.) 23.7%
- of which: Crude Fat (min.) 5.5%
- of which: Crude Fiber (max.) 0.5%
- of which: Moisture (max.) 40.8%
Ingredients: Chicken Bone Broth, Fish Concentrate, Gelatin, Turmeric
Dimensions: 16 Count (1 Pkg)

Important! Please Read
▸ Keep cold. All cakes and pastries contain fresh, perishable ingredients. 
▸ Refrigerated treats should be eaten within 1-3 days. After that store in the freezer. Treat them like human food that contain meat and fish.
▸ Serve responsibly up to 20% of their daily calories or 3% of weight.